Convening Around A Red Carpet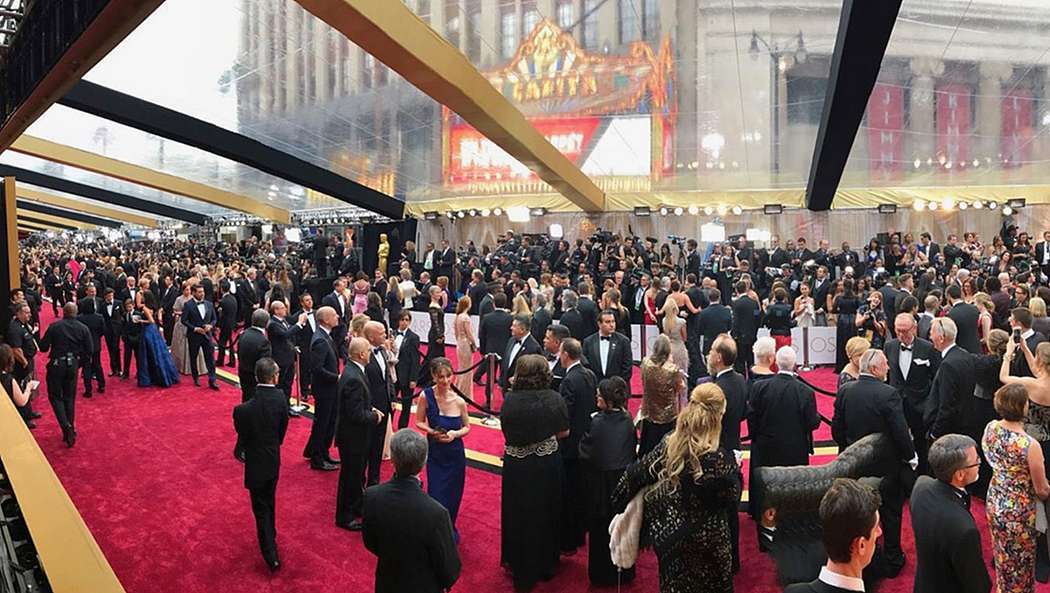 Shook Kelley's Los Angeles office sits at the corner of Melrose & Vine, on the edge of Hollywood. Even though our clients are based throughout North America, wherever in the world you live and work, you can't help but recognize the magical allure of Hollywood. It's something that's hard to put a finger on. What is that special sauce? What makes the "dream factory" so magnetic? How does this global center of culture production manage to bring so many people together around shared storylines and conversations?
You could fill a book answering those questions, but for now, we want to pick apart one powerful experience and cultural phenomenon that we encountered on just another day in Hollywood: The Oscars Red Carpet.
The film industry's annual Academy Awards not only celebrate the artistic achievements of filmmakers and actors. For millions watching the awards, the pageantry of the show evokes the romance, mystique and charisma of celebrity culture. But the Oscars are much more than a media spectacle and grand advertisement for the movie industry. The event is also a physical and tangible experience: statues, tuxedos, gowns and of course, the Red Carpet. While the carpet's material coordinates are relatively simple—33 feet wide, 16,500 square feet and a cost of $30,000 (coming to just $1.81/sq ft)—the cultural value of the Red Carpet is much more difficult to calculate.
What makes the Red Carpet experience so magnetic?
By attending the People Magazine Oscars Fan Experience this year, SKLA intern Jill Salzman got a firsthand look at the iconic Red Carpet experience that helps create the Academy Awards' power to convene. She reported back on the gowns, the glitz and the glamour, all radiating from that one fabulous Red Carpet.
But the actual Red Carpet experience is not quite as it seems. It's more like the strange combination of a football stadium and runway fashion show. Bleacher seating is arranged only on one side for just 735 fans, while the press is massed on the other side of the Carpet, and the elite celebrities walk up the middle of this scene. In other words, the fans aren't there to actually meet movie stars, as much as they're there to serve as a human backdrop. Celebrities carefully coordinate who they interact with, although most don't talk to anyone or only brief interviews with sanctioned journalists. And yet, despite all the choreography and lack of genuine fan interaction, the on-site admirers still hooped and hollered for a wave or acknowledgement from their favorite star. The chance to just witness fame in the flesh was clearly meaningful, and a handshake or even a smile from Denzel Washington would be the icing on the cake.
When we see celebrities coming together on the Red Carpet, it also generates a power to bring regular people together, too—albeit in a parallel universe of our everyday lives. In that normal world, fans debate whether Chrissy Teigen and John Legend look even more in love in person than they do in music videos, or argue if Blake Lively's hair is actually glossier in reality, and agree that Vince Vaughn is actually that huge. While some explore the artistic merits of Meryl Streep's latest performance, more people honestly just want to relate to these famous humans or dish the latest gossip. The Red Carpet is a spectacle for the fans, above all.
The Red Carpet generates a power to bring regular people together, too.
As well-designed experiences go, the Red Carpet is arguably one of the most powerful and memorable first impression experiences anywhere. It's also a very appropriate first impression for a Hollywood story that revolves around celebrity.
Shook Kelley has consistently found that whether you are striding through the automatic sliding front doors at a supermarket in Tulsa, Oklahoma or walking down the Red Carpet for a global audience, all powerful first impression experiences share some commonalities. First, a first impression should set an emotional tone. At the Oscars, the Red Carpet experience sizzles with a kind of cultural vibrancy, helping celebrities stand out and attract attention. A second goal of a good first impression experience is to set expectations. The experience at the Oscars has become a common metaphor to describe luxury VIP service levels: the "Red Carpet Treatment" or "Rolling out the Red Carpet." In doing so, the Red Carpet sets expectations for how people will be treated and how they should act there. It suggests that these are not "ordinary" people, but more like aristocracy—and it only helps that Red, as a color, has long been associated with prestige and royalty. A third objective the Red Carpet accomplishes is framing up the story of the overall experience. It's a grand entry, for a grand show. The Red Carpet builds excitement and fuels the buzz of celebrity. These are emotional levers. And the Red Carpet serves as an introduction to a larger story, about celebrity and fame in Hollywood. But this is also a story that needs to relate to regular folks, too, who dream of another life or other ways to live and be. At the 2013 Oscars, for example, Jessica Chastain told a reporter that "as a little girl…I always dreamed about my Oscar dress." A lot of effort, and a lot of celebrity news stories, simply revolve around the thought process behind what celebrities decide to wear on the Red Carpet. Actress Emma Roberts told a personal reminiscence of how she watched her aunt, Julia Roberts, trying on dresses the year she won her Oscar: "I said 'You should wear the skunk dress,' and she ended up winning in it." Or as Amy Adams said on the Red Carpet, "I've worn a lot of different dresses, but I've never worn a big ballgown, so I thought I wanna wear a dress you can't wear anywhere but the Oscars."
In advertising circles, the Oscars are sometimes described as the "Super Bowl for women."
And of course, the whole event draws big audiences, which translate into revenue streams and business opportunities, as well. In advertising circles, the Oscars are sometimes described as the "Super Bowl for women," because the Awards reaches a heavily female and metro audience – an important demographic for many consumer brands. In 2014, for example, 62% of Oscars viewers were female, according to Nielsen. And those valuable viewers—34 million Americans in total last year, alongside 225 other countries—translate into big money. In 2017, advertisers paid around $2.1 million for 30 second commercials, a figure that increases annually—it's the second priciest real estate on TV after the Super Bowl. The Oscars are also increasingly important to advertisers because they're getting more consumers engaged with their brands through social media, checking Facebook, Twitter and live blogs, while offering personal commentary.
Which all speaks to the importance of the Red Carpet to kick off the spectacle and set the tone for the event. With this grand entrance, the Oscars stands out from other award shows and other events, helping create the overall event's magnetic power.