Spotlight: LA 2016 Summer Interns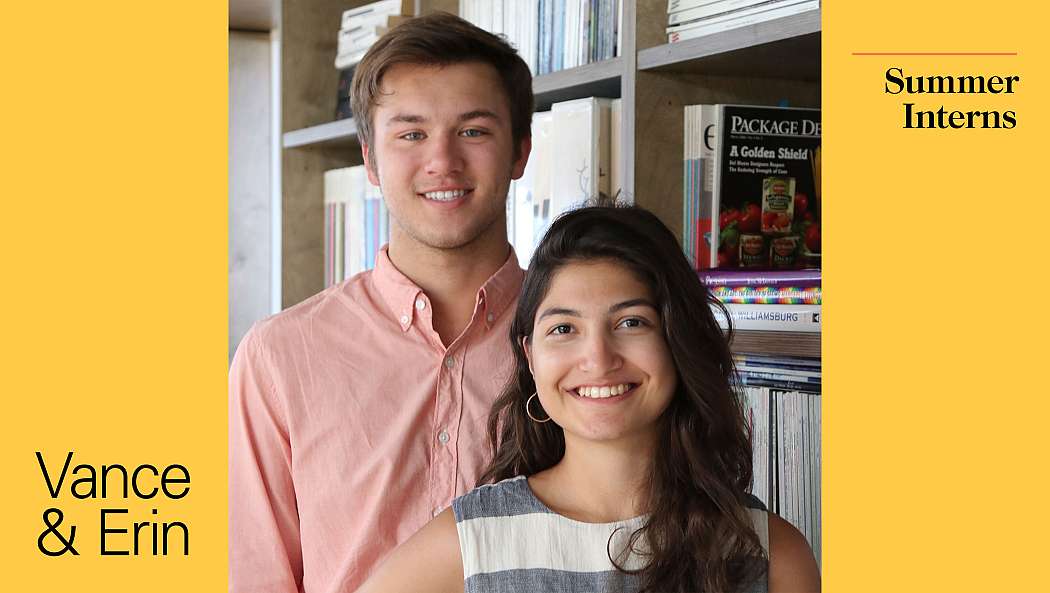 It's summer in LA, and two interns have joined us, bringing with them two different and valuable sets of skills and talents, as well as an insightful and refreshing millennial point-of-view. Being a multi-disciplinary firm, offering strategic branding services along with design and architecture services, we have been fortunate in having both Erin Soygenis and Vance Thomas join us in our architecture and strategic branding studios.
Over their two month stay with us, we spoke extensively with both Erin and Vance about their backgrounds, their experiences and their impressions of LA.
Here, they share with us insights on being an intern at Shook Kelley, and on being new to Los Angeles.
Originally from Istanbul, Turkey, Erin Soygenis is a rising fifth year architecture student at Cornell University College of Architecture, Art and Planning. In architecture school, she worked on a variety of projects from rural to urban, small program to mixed use, in which she focused on creating public spaces for co-mingling people and community interaction. Erin's other electives and art studio courses included sculpture and photography where she further investigated design and research, and developed an interest for multi/inter-disciplinary design.
Why an internship in Los Angeles?
I decided to intern in a Los Angeles firm to experiment with a different urban fabric and climate, and therefore learn more about design strategies and solutions that would respond to these conditions.
Why Shook Kelley?
I chose Shook Kelley to work on interiors to understand details and explore architecture as a tool to change people's everyday attitudes.
Having the advantage of being in a small firm, I get to have personal interaction and work with everyone who gives an effort for me to learn. Before coming here, I knew that there would be new insights into architecture in terms of focusing on interiors and branding strategy. Going beyond the design concepts, I wanted to learn about interiors and force myself to think about how one experiences a space, and imagining a space not only through technical drawings but also through the selection of furniture and materials.
Tell us about what you've learned or been enlightened about in your time at Shook Kelley.
What I like about my experience here is that I get to be involved in and experiment with various types of projects and tasks every day. We have meetings with other teams—branding and graphics, thus we have the opportunity to learn about others' perspectives, discuss ideas and proceed to solutions through various points of view. As I worked on organizing the material library and choosing materials, I learned the composition, application and properties of new materials. Once, I had the chance to attend a client meeting which helped me to understand the process of business and recognize design not only as an aesthetically pleasing product, but I learned that there is also problem solving and negotiation needed between the client and the designer, and the role of the architect is to convince and motivate the client.
What about your impressions of LA?
Coming from New York, Los Angeles feels like a different world where the sun shines all the time. LA is very spread out, and being a pedestrian is a struggle, but it helps me to explore and observe what is going around more. Going from one point to another is not only a task to get to a destination but a journey of exploration itself. It is interesting to see how the urban fabric and culture change from one street to another. One street is covered by palm trees, and luxurious homes look like a cover for California Dreamin', whereas when you turn the corner you find yourself in a treeless, sketchy street.
Do you have any favorite LA spots?
I really enjoyed the Downtown Arts District and casually walking into small art galleries in old, brick buildings. Overall, every place has its own vibe and character, each creates a multicultural energy in LA.
I have been trying to go to the top touristy and iconic spots in and around LA, which are LACMA, The Getty, MOCA, Walt Disney Concert Hall, The Broad, Eames Foundation, Griffith Park, Rodeo Drive, the Farmer's Market, Arts District, Hollywood, the many beaches. Most of the beaches were not as active as I thought they would be!
I like the places that are vibrant and where there is activity going on. The 3rd Street Farmer's Market, which I think is very cozy and casual, is a destination that I go to pretty often.
Vance Thomas is a junior at Elon University in North Carolina where he is studying Strategic Communications and Creative Writing. He serves as the Vice President of PRSSA (Public Relations Student Society of America), a national organization that engages and connects aspiring public relations professionals with professional speakers, mentors and employment opportunities. He also works as a freelance PR agent, collaborating with several local organizations and boutique marketing firms on social media strategy, event planning and press releases.
Hi Vance! Why an internship in Los Angeles?
I came to Los Angeles having never been to California before—so needless to say, there was some culture shock. However, that shock isn't always a bad thing. Since my arrival, I have felt welcomed by the city's beautiful, diverse community and have done my very best to "live" here, versus being a tourist here. To me, living in Los Angeles means four things: 1) shopping at local stores, 2) trying out local favorite eats, 3) never, ever getting in that dreaded yellow city taxi, and 4) befriending the locals.
And, why Shook Kelley?
I inquired at Shook Kelley for an internship because I was interested in learning more about brand strategy. While the majority of my previous work experience has been in public relations, It's my personal belief that one should experience working in different fields and office cultures before deciding where they want to have a career, and I'm doing just that.
Tell us about what you've learned or been enlightened about in your time at Shook Kelley.
This summer has taught me that there is so much more to what we see in stores and restaurants than meets the eye. The simplest things, such as where grocery stores place their produce, can make all of the difference in the world when it comes to sales and an overall shopping experience. My time with Shook Kelley is showing me that while architects and graphic designers and brand strategists are capable of handling their own work, the finished product is so much better when we convene and work together.
Tell us about your impressions of LA.
While I feel like there are so many tourist-y things to do and see in Los Angeles, to me, the real LA experience isn't about studio tours or shopping on Rodeo Drive. I have spent my summer going on adventures everywhere from Laguna Beach to karaoke bars in West Hollywood, and the experiences that I've had are priceless. The biggest observation that I've made about my shopping and going-out habits in Los Angeles is that I only return to places that are good spots to meet. At no point during my summer have any of my friends said "Meet me at In 'N Out," because, despite the burger chain's legendary status, it's not a personal experience.
In contrast, my friends and I find ourselves visiting the cafe, Lemonade, on Riverside Drive at least twice a week because of the friendly staff (who always seem to remember our orders), the light and welcoming environment, and the spacious outdoor patio that is perfect for conversation. Much like Lemonade, I've learned that Shook Kelley designs places and spaces where people can gather and convene.
Do you have any favorite LA spots?
Amoeba Records: I'm an avid collector of vinyl records and physical music and this is one of the biggest and best record stores in the world.
Laguna Beach: Victoria Beach in Laguna is pretty unreal. From its Medieval-looking lighthouses to the massive waves, there's really nothing else like it.
El Rey Theater: I had the privilege of seeing and hanging out with one of my favorite artists at the El Rey and it was an experience I will never forget. From the dark lighting to the beautiful moldings around a small stage, the El Rey is a perfect venue for intimate live music experiences.
Kreation Organic Juicery: I bought their famous Charcoalade after a long night in Beverly Hills, and it completely changed my life. There's also basically a guarantee that you'll run in to a celebrity at any of their locations at any given time (I've personally seen a Kardashian sipping on Green #1.)
Thank you, Erin and Vance! We wish you success in your continued studies at Cornell and Elon.
To get a glimpse of a millennial's point of view, check-out our interns' blog post regarding their visit to the new Whole Foods 365 Market in Silver Lake.